Tiles
See our tile gallery for some inspiration on our range of tiles.
O'Connor Carroll Showrooms
O'Connor Carroll have showrooms in Glasnevin and Ballymount. Our new Glasnevin showroom is over 4000ft2 with a large range of tiles over 2 floors.
Our new Glasnevin showroom is open Monday to Saturday.
Go to our Contact page for full contact details and location map
Tile collection
To celebrate our new store opening O'Connor Carroll have a great sale in Bathrooms and tiles. Come along to see our great range of products. We offer a large range and high quality tiles at very affordable prices. You'd better hurry while stocks last.
Of course O'Connor Carroll have all the latest trends Bathroom tiles, kitchen tiles and splashbacks for floors as well as walls. Whether you are interested in ceramic or porcelain tiles, your bound to find the perfect tile from our superb range.
Tile Gallery
O'Connor Carroll enjoy an excellent reputation in bathrooms and all things concerning bathrooms. Established in 2005, O'Connor Carroll is an Irish owned company that sells a quality range of bathrooms, tiles and stairlifts from state of the art showrooms in Glasnevin and Ballymount. Our contracting division installs a large number of bathrooms every year. Thus we can genuinely claim excellent product knowledge for bathrooms. We are in a perfect position to make excellent recommendations and give the best advice to our customers.
Our tiles are and bathroom equipment are available for next day collection by our customers from our showrooms. We offer excellent value for money to all our customers. Our highly experienced and trained staff will assist you in selecting the best products for your home or business.
Talk to our staff who are highly knowledgeable with great experience in bathrooms and tiling. We are always very happy to share any information and be as helpful as we can. Our staff will share any tricks of the trade and provide you with the do's and don'ts to help you create you perfect bathroom.
With bathroom and tile showrooms both northside and southside we have never been closer to our customers.
How To Set Tiles Correctly. What is good trowelling? What are we trying to achieve? The key point is proper ...
Read More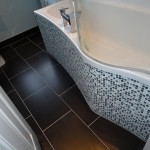 Key Elements To Consider For A Successful Bathroom Follow my 10 bathroom tips to keep in mind for a successfully ...
Read More
Our Tile Partners