Tips for a leak free Bathroom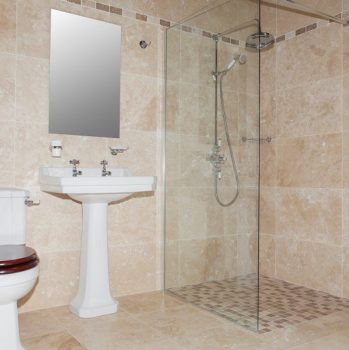 Leak Free Shower Tips.
Building your own bathroom can be a daunting affair. However if you keep in mind some common sense rules you can ensure that your bathroom is leak free and long lasting. Below I include some useful tips in ensuring a leak free shower.
So if your going to build a new shower or a new bathroom keep the following in mind.
Proper base for shower tray and floor tiles. Shower tray movement will cause a leak. If bathroom floor is chipboard remove it. Replace it with T&G or ply. Reduce excess flexing of joists. Put in extra noggins if necessary. We recommend using a good quality 18mm water resistent plywood over the existing floor. These measures will provide a good base for tray and tiles. Therefore avoiding cracking of tiles or cracking of grout. Consider anti-cracking matting as an alternative to thick additional layer of ply.
Bathroom walls must provide proper base for tiling. Therefore remove all old tiles and start again. May be necessary to remove all plasterboard if the tiles don't come away. If you have solid walls in old houses you may have to remove all the old plaster to get a good base. Allow solid walls to dry out fully. Ensure there is no movement in stud partitions. Reinforce if necessary.
A good wall base will ensure a higher quality tile finish. Once you have stripped back to a firm base you can now start to rebuild the bathroom. Consider using moisture resistant plasterboard. Also consider tile backer board for shower areas. Insulating the bathroom at this stage may be a good idea.
Waterproof the shower area. Follow instructions for tanking systems. Ensure that the corners are taped and sealed.
Install the shower tray. Ensure it has adequate bedding and no movement.
Seal the joint between the tray and walls.
After tiling seal the corner joints with silicon. Grout won't do the job as it will come away after a while.
Use flexible grout to allow for micro-movement without cracking.
Use bagged adhesive with flex for walls. This adhesive is also highly resistant to water.
Use a rapid set flexible adhesive for the floor.
I hope you found our post useful. Good luck with your bathroom renovation.
If you want further information or any advice please don't hesitate to [Contact Us]. O'Connor Carroll the experts in bathrooms and bathroom building.