Showrooms
O'Connor Carroll Bathrooms Dublin
O'Connor Carroll Bathrooms is a great destination for all your bathroom and tile needs. We have 2 great stores in Dublin. Our north side bathroom showroom is located in Glasnevin. Our south side bathroom showroom is located conveniently on the M50 in Ballymount. Scroll down for details on each showroom.
Bathroom Showroom Glasnevin
O'Connor Carroll Glasnevin
Unit 5, Slaney Court
Glasnevin
Dublin 11
Tel; 01 882 8442
Email; glasnevin@oconnorcarroll.ie
Opening Hours
Mon – Fri open 11.00am – 5.00pm,
Closed Sat, Sun and bank holidays
Bathroom Showroom Ballymount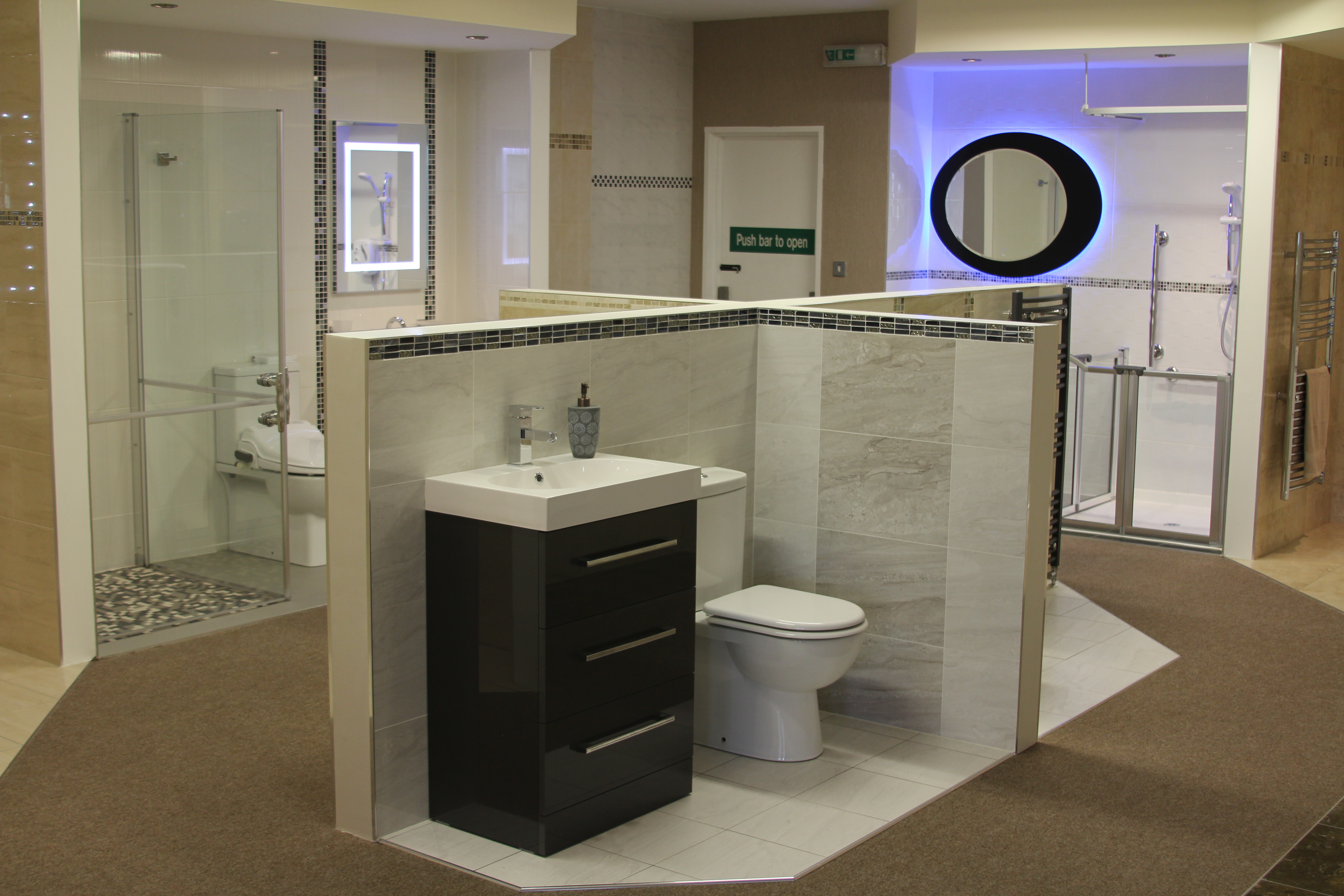 O'Connor Carroll Ballymount
6 Western Parkway Business Centre
Lower Ballymount Road
Ballymount
Dublin 12
Tel; 01 456 8000
Email; sales@oconnorcarroll.ie
Opening Hours
Mon – Fri open 10.00am – 5.00pm,
Closed Sat, Sun and bank holidays
Bathroom Showroom Images
Virtual Tour O'Connor Carroll Bathrooms and Stairlifts
Take a virtual tour of our Ballymount bathroom showroom.
Our showrooms are located at; Glasnevin and Ballymount.
O'Connor Carroll Dublin Showrooms
How can we help you today?
Our Dublin showrooms contain a whole range of products that complement our services. We specialise in bathrooms & tiles. So come along and visit us today. There is no substitute for going directly to our showroom and seeing exactly what we have to offer. We continually update our tile collection. Our friendly staff will be happy to give you any advice.
Showrooms; Tiles
Do you need tiles for a hallway or a kitchen floor? Tiles for kitchen splashbacks. Or perhaps tiles for a new bathroom.
O'Connor Carroll stock a large selection of tiles to suit all tastes and requirements. And as always at very competitive prices.
High quality showroom
Large number of tile displays
Large format kitchen floor tiles
Splashback tiles/ Metro tiles
Showrooms over 2 floors
Porcelain tiles
Ceramic tiles
Boheme Collection
Tribeca Brick collection
Wood effect tiles
Showrooms; Bathroom Equipment
O'Connor Carroll are partners with Sonas, RT Large, Tavistock bathrooms, Phoenix bathrooms, Eastbrook, Earthridge and Easa to name just a few. These are all large suppliers in the Irish market. So we can supply a very large range of products mostly next day.
If you are tackling your bathroom yourself or you have your own builder why not come along and talk to us. Here is just some reasons to visit
We have great take-away deals for bathrooms and tiles.
Large selection of goods from leading suppliers.
We have long experience in the sector
Our experts can take you step by step through the process.
We are happy help you with your design optimise your bathroom layout.
All our products are priced at very competitive, products or equipment such as tiles, sanitaryware, radiators, heated towel rails, furniture, mirrors/cabinets and much more.
Our showrooms are packed with a full range of bathrooms and tiles so make sure you visit us.
Showrooms; Disabled Bathrooms
O'Connor Carroll have a long established reputation for building disabled bathrooms
Approved by all councils in Dublin region where we operate
Free survey and quotation
Advice on going for the grant
Full displays of level access bathrooms
Large Showrooms
Stairlift demonstration centres in both showrooms
For those requiring disabled bathrooms our showrooms have dedicated level access bathroom displays. Come visit us and see for yourself. Look through our [Special Needs] equipment section and see what bathroom equipment is available. O'Connor Carroll will also guide you through the grants process.
We have a stairlift demonstration centre in each showroom. O'Connor Carroll provides a full range of services for home adaptations. Thus as well as bathrooms, we provide under stairs toilets, wet rooms, ramps/rails and door modifications.
Bathroom Renovations
Many of our customers neither have the expertise nor the time to build their own bathroom.
Do you require a bathroom fully supplied and fitted? Then you may wish to consider a full bathroom Renovation package. O'Connor Carroll deliver turnkey bathroom renovations. This takes the stress out of having to manage your own project. We have long experience and an excellent name in bathroom building. We can build your bathroom from start to finish.
O'Connor Carroll specialists in bathroom renovation.
Building bathrooms for 2 decades
Full supply and fit service
Long established reputation
We build approx. 200 bathrooms a year
Complete bathroom packages
Free home consultation and design help
Free no obligation quotation
All Vat is reclaimable
Fully insured
Fully qualified
O'Connor Carroll are renowned for building the finest quality bathrooms. We also build wet rooms, level access showers, under stairs toilets. In fact any form of showering and toileting facility. We are a long time in business and have built a strong reputation over the last 2 decades.
O'Connor Carroll Bathrooms Tiles Stairlifts design and build projects at a cost to meet all budgets. All projects are completed from start to finish to the highest standards. All work carried out is backed up with reliable aftercare service. Our skilled staff carry out all aspects of the job.
So come along to us today and avail of some great opening offers for our new Bathroom showroom in Glasnevin.
If you are interested in stairlifts why not visit our dedicated [Stairlift Website] which is filled with all information and answers any questions.
Our Partners
Sonas Bathrooms RTLarge & Sons Tavistock Bathrooms Eastbrook Bathrooms Phoenix Radiators Easa Shower Trays Triton Showers Lucretia Tiles